Send Later lets you schedule emails to be sent at a later date and time of your choosing. This is great for working with people in different time zones or needing to send important emails when you are traveling or out of the office.
​ 
How to use Send Later
To take advantage of Send Later make sure this option is checked in composer of the email you're about to send: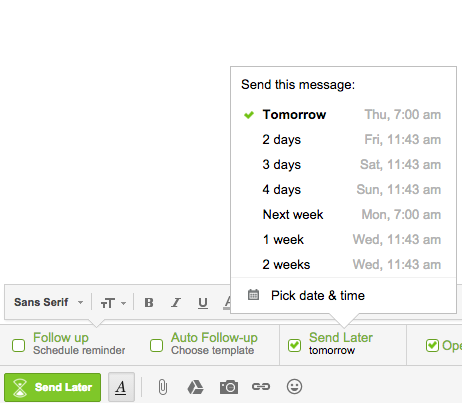 Once this is complete, the composer will close. The email will be stored in your drafts folder until it is sent. To edit, delete or reschedule the email, simply open the draft and make your changes.
NOTE -  If you edit an email from your drafts that were scheduled for Send Later, YOU MUST RE-SCHEDULE the Send Later for it to still happen.
​
Send Later Example: Going On Vacation Checklist
Let's say you wanted to remind yourself of a few last minute things before you left for your big annual trip. You would create the email you want and simply chose to Send Later in the menu we provide. In our example, we chose to Send Later in 1 week. 
When we click Send Later, this email goes to our drafts to await its eventual delivery. What if you need to add or change something? Go to your drafts folder and click EDIT.
​
As we mentioned - YOU MUST RESCHEDULE the Send Later if you edit it for any reason. When you EDIT this Send Later you can still use our additional features on top of it if you feel you need to.