You can see and manage your FollowUp.cc reminders right from within the three calendars of your choice.
Google Calendar Integration
Once you're connected, any reminders you create will be added to a FollowUp.cc Calendar within your Google Calendar. You can edit or delete the reminder on your Google Calendar, these changes will be applied to your FollowUp.cc account.
If you want your reminders to be in a separate calendar, you can create a calendar in Google and enable it on the settings in FollowUp.cc. From Google Calendar select the arrow by My Calendar, Create a New Calendar: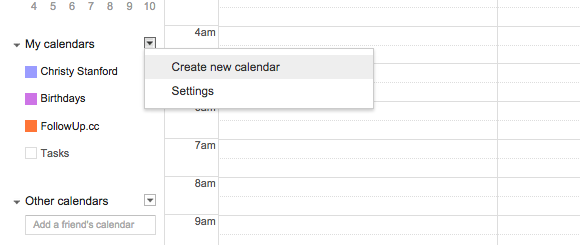 Apple Calendar Integration
It is very easy to set up FollowUp.cc to integrate with your calendar. Here are 3 simple steps:
Please go to your Settings and connect to Apple Calendar. There are 2 feeds. The Full feed will show your entire message and the Mini feed will only show the subject line of your reminder. Select and copy the link for the feed you want.

Open Apple Calendar and navigate to 'New Calendar Subscription' on the File menu.

Paste in your calendar feed link and click 'Subscribe'. That is it. Your calendar will begin to propagate.
Outlook Calendar Integration
Then, open Outlook -> Navigate to your calendar -> Click on 'New Calendar' and pick 'Internet calendar' on the drop down menu. Paste in the link and your calendar will populate.